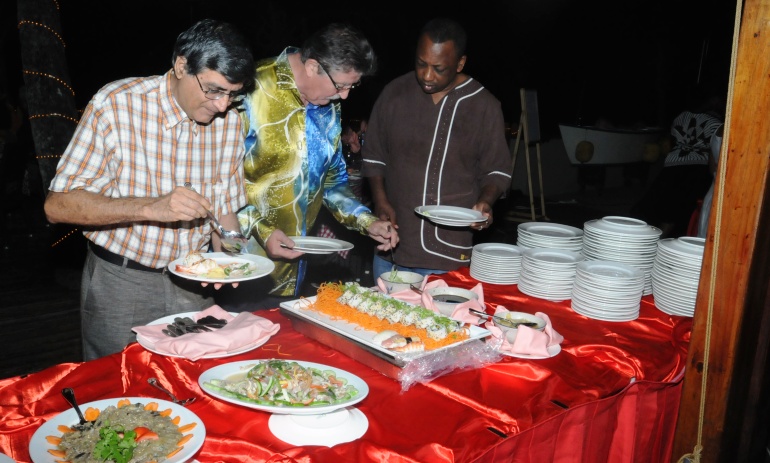 The Berjaya Beau Vallon Bay Resort & Casino is officially the first hotel to promote the hook and line labelled fish.


It became official in a promotional event at the hotel's pizzeria on Saturday where the hotel received certificate of partnership from the committee of the Fishing Boat Owners Association (FBOA).
The certificate was received by pizzeria manager Amina Duprès from Beatty Hoarau, one of the founding members of the FBOA and label programme.

The certificate presentation was done in the presence of distinguish guests among whom Designate Minister Vincent Meriton and Minister for Natural Resources Peter Sinon, the hotel's general manager Ken Choo, fishermen who are members of the FBOA and other staff of the hotel.

"Berjaya Resort and Casino is glad to associate ourselves with the Seychelles hook and line fishermen for catching fish in a sustainable way by hook and line, as such retaining the highest quality and freshness of the fish by cleaning and gutting and putting the fish on ice within 30 minutes after the fish has been caught," Mr Choo said proudly.
With this partnership between the hotel and the FBOA the hotel will serve only the hook and line labelled fish.

The hotel guests will now learn from the menu which describes the hook and line initiatives and appreciate that Seychellois fishermen is not just into fishing, but fishing in a sustainable way.
As the motto of the label goes "Ansanm pour en lapes dirab e responsab".

Mr Choo added: "I have personally taken Seychelles labelled fish to Asia and the feedback from the Asian connoisseurs is that the Seychelles fish is simply amazing."

He thanked Minister Sinon, FBOA, hook and line fishermen, Seychelles Fishing Authority and Virginie Lagarde to have introduced him to the Seychelles label fish programme.
Afterwards the guests could savour the different dishes that the hotel will be offering its clients.

People who would like to learn more about hook and line fishing can visit the web link : http//Seychelles-hookandline-fisherman.org/